In a world where Science, Technology, Engineering, and Mathematics (STEM) play an increasingly vital role, fostering a love for STEM in Everyday Life has never been more important. The good news is, STEM learning isn't limited to textbooks and classrooms. In fact, STEM surrounds us every day, and there are countless opportunities for our kids to explore, experiment, and learn. The challenge? Spotting these moments and turning them into exciting learning experiences.
Everyday Science:
Kitchen Chemistry: Cooking and baking offer a treasure trove of scientific lessons. From measuring ingredients to understanding chemical reactions, the kitchen is a hands-on science lab.
Gardening Adventures: Planting seeds and nurturing a garden is an exploration of biology, botany, and ecology. Kids can learn about plant life cycles, photosynthesis, and ecosystems.
Weather Watch: Keeping an eye on the weather presents opportunities to study meteorology, atmospheric science, and even basic physics. Create weather journals or follow meteorological reports together.
Technology Tidbits:
Gadget Dissection: When old devices break or are no longer in use, take them apart together. It's a fun way to learn about the inner workings of technology.
Coding Quests: Explore coding through kid-friendly apps or games. Learning the basics of programming can be a creative and logical adventure.
Tech Troubleshooting: Next time a tech issue arises, involve your child in the problem-solving process. It's a real-world lesson in critical thinking and debugging.
Engineering Excitement:
LEGO Adventures: Building with LEGO blocks isn't just play; it's an introduction to structural engineering and design principles.
Bridge Building: Using household items like spaghetti and marshmallows, challenge your child to build bridges and explore the physics behind them.
Cardboard Creations: Cardboard boxes are the perfect canvas for constructing anything from simple structures to elaborate cardboard cities.
Math Moments:
Grocery Math: Make shopping a math lesson by having your child calculate costs, measure items, and estimate totals.
Board Game Bonanza: Many board games involve strategic thinking and math skills. From chess to Monopoly, they're great for sharpening young minds.
DIY Puzzles: Create your own puzzles or riddles for your child to solve. It's a playful way to engage their mathematical thinking.
Encouraging Curiosity:
Ask Questions: Encourage your child to ask "why" and "how" about the world around them. Answer questions to the best of your ability or explore the answers together.
Explore Together: Be curious with your child. Investigate insects in the garden, watch the stars, or take apart an old appliance to see what's inside.
Celebrate Mistakes: Show that it's okay to make mistakes. In fact, learning often comes from trial and error. Embrace the journey of discovery.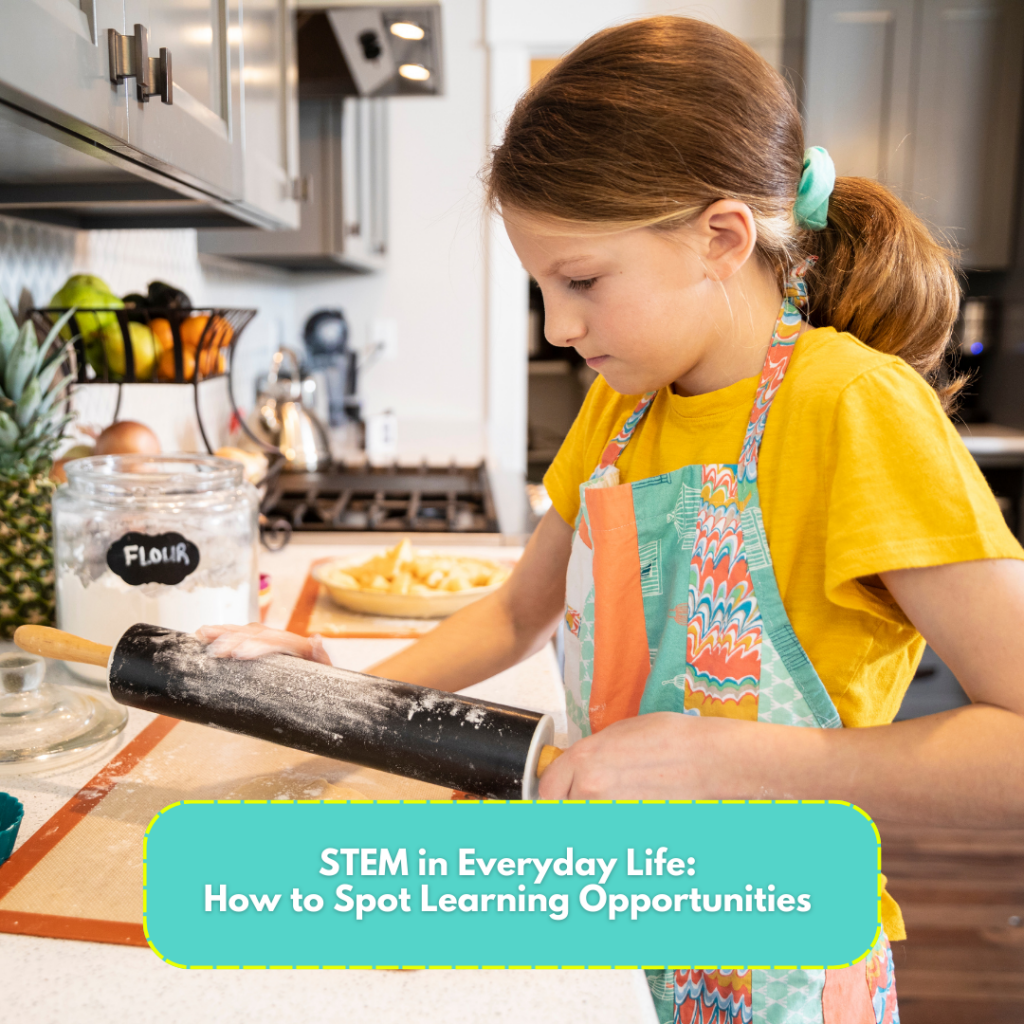 Remember, STEM learning doesn't always require a formal lesson plan. By recognizing the STEM opportunities in everyday life, you can foster your child's natural curiosity and help them develop essential skills for the future. Encourage questions, exploration, and hands-on experiences to make STEM a part of your daily adventures.
Every day is a chance for your child to become a scientist, engineer, or mathematician-in-the-making. So, embrace the learning moments that surround you, and watch your child's excitement for STEM bloom.
Let's make learning an everyday adventure! Join us on this amazing learning adventure 🌟🔬🌿