Summer is here, and you might be struggling to decide whether to join an Online or In-Person Summer Coding Camp. Because of COVID-19, most summer camps have updated their in-person programs or have turned them into virtual or hybrid experiences. Unsure about signing your child up for Online or In-Person Summer Coding Camp? Take a deeper look with us to make the best decision for your child.
Summer is the perfect opportunity for kids —and parents— to change their online school routines. Traditional in-person summer camps can be an incredible experience for kids because of the hands-on and outdoor activities involved as well as the friends kids can make. On the other hand, online summer camps allow kids to interact and learn with their peers from the comfort of their home. Virtual camps also enable you to choose programs that could be based anywhere in the country or even the world.
Rest assured, there is a Summer Coding Camp experience awaiting that's perfect for your child. So…, let's take a look together at some of the pros and cons of Online Summer Coding Camp and In-Person Summer Coding Camp!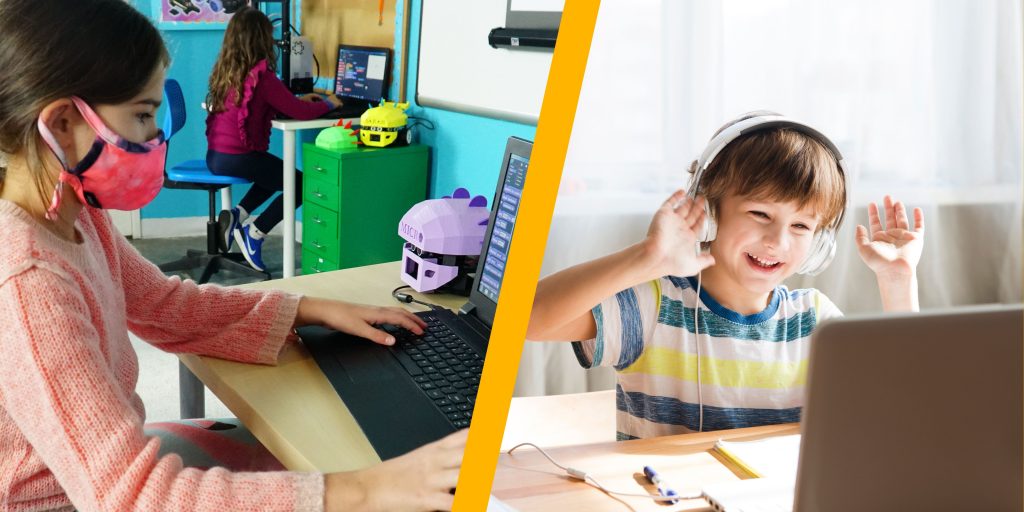 Online Summer Coding Camp Pros and Cons:
Due to the pandemic, online education became the main solution to keep delivering education during the past year. Online Summer Coding Camps have increased their popularity since they are interactive, often lower in cost, and typically allow smaller instructor-to-student ratios than school or similar programs. Apart from that, here are some of their main characteristics you can weigh to make an informed decision.
Offers Greater Flexibility
Taking an Online Camp gives you a kind of adaptability that isn't accessible with conventional in-person strategies. Usually, the only requirement for an online coding camp is a computer with internet, audio, and video. You can join from anywhere, access recorded classes and choose a wider range of times than in an in-person camp.
Gives Greater Variety
During the last year, the offer of online programs has increased notably. In the virtual field, you can find literally all kinds of classes from sports to arts and music to technology. A summer coding camp works very well in a virtual format, as it often has smaller instructor-to-student ratios, allowing more online one-on-one time between campers and teachers.
Is Often Less Expensive
In general terms, online education tends to be less expensive than in-person learning. In an Online Summer Coding Camp you don't just save on transportation costs, but also save on the cost of the camp itself. Usually virtual camps are cheaper because paying for facilities costs and maintaining staff for on-site camp is more expensive than offering an online program.
Although there are many pros related to e-learning, there are some things to consider before signing up for an online camp. One of the most common cons is that kids, and especially parents, may not want more screen time right now. Also, some kids are tired of being at home and want to get away from the house. 
(Here, you can also find 7 Lasting Benefits of Virtual Summer Camp)
In-Person Summer Coding Camp Pros and Cons:
More Hands-On Experience
The experience of an In-Person Summer Camp after a year of online learning can be thrilling for your children. Being able to interact with instructors and other kids face-to-face, to touch, make and create with their own hands has been proven to have several benefits in kids' overall experience and learning process.
Facilitates Connections
Despite the options we have to interact through online tools, they can't always be compared with the experience of being on a campus. The buzz of camp surrounding kids, or a group game can be unique to being at an in-person camp. In an In-Person Summer Coding Camp, students can connect in real-time to strengthen their social skills such as through teamwork. While this is also possible in virtual camps, for some children, it isn't quite the same as being there with peers. In-person training provides greater opportunities for group activities and interactive projects if your child's learning style suits an in-person format better.
Allows For a Change In Environment
Both children and parents have had a long year of working, learning and studying from home. An In-Person Summer Camp is the perfect opportunity for kids to change their everyday online school routine. Going to a new place and enjoying outdoor activities with kids their same age can be refreshing and exciting. This isn't just a perfect getaway for kids, but also for parents who could use a full-time summer camp in order to focus on work….and on themselves!
While In-Person learning has multiple benefits both for parents and children, it's important to recognize your child's learning style. Some kids find speaking out in public or meeting new people intimidating, limiting the possibility of enjoying the in-person format. There are also always greater Covid risks, though you should check the camp's Covid precautions taken, when joining an in-person camp right now.
In conclusion, there are benefits and drawbacks to both in-person and online summer coding camps, though both are net positive. Before making your decision, it's important to carefully evaluate the pros and cons of each camp format. But most importantly, choose the option that best fits your child's learning style and preferences to give them an amazing summer camp experience.