Our modded server goes above and beyond with an astronomical amount of stuff available in it. Whether your dream is to travel the stars, build the largest factory known to man, or explore strange new worlds with crazy monsters around every block, we got you covered. We use the Resonant Rise mod pack as the foundation for our modded server, however we go beyond that by having customized it to enable all the same features as the Vanilla Server. This server is not for everyone however, it is highly recommended that you have a pretty reasonable computer for it because of the nature of the modpack. Our recommended specs are:
-Intel i3 processor or better
-8GB of RAM or more
If you run into any issues, please refer to the installation guide.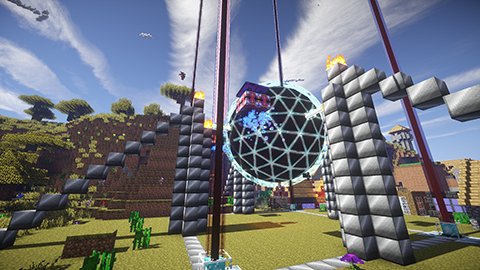 Features:
-Full economy that is player driven
-Large player hub
-Server is monitored all the time for a safe, positive, and clean experience
-Custom made plugins
-Minigames (coming soon)
-Block protection and anti-griefing plugins
-Whitelisted so only allowed players can have access
-Large amount of mods covering all the bases
-Customized configs on various mods to have a more balanced approach
Mod Highlights:
-Mekanism
-Galacticraft
-IndustrialCraft2
-Advanced Energistics
-Immersive Engineering
-Thaumcraft
And More!
Our staff have been playing with large modpacks for years, and we are well versed in the mods we have available. Should you need assistance in building your oil refinery, shielding your nuclear reactor properly, or learning the mysteries of spatial storage, we got you covered. Through the multitude of mods we have, it could take a very long time to reach the true "end game" with everything, which is fantastic since it never gets dull. What makes this server even better is the fact that we have customized it so that it has the exact same plugin functionality as the Vanilla server, which means you will have the same quality of life improvements that exist over there.
The server is hosted on ultra fast SSD's, the latest and most powerful Intel Xenon processors, a large amount of DDR4 ECC RAM, and a gigabit connection so that you get the best experience available.
Please note, however, that this only gives you access to the Modded server, the Vanilla server is a different package.