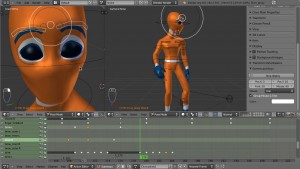 According to a report out of Scottsdale, Arizona, it seems as if the spreading of the love of coding is beginning to have a serious impact on children. Fields Moseley of AZ Family addresses this in a recent article titled «6th grade girls spreading their love of computer coding.»
Moseley writes, «The 6th grader at Rancho Solano Preparatory School and her friends love computer coding, so they created a club where they could express themselves. 'Our club name is the GOCC, which stands for the Girls Only Coding Club,' said Sophia Trujillo. 'We have a sticker and everything,' said Sanya Agarwal with a laugh. 'It's GOCC, code like a girl.' No art, cooking, or dancing, but creativity through code. 'You can really express how you feel through your coding,' said Dillard. The three friends are acutely aware their peers are not as comfortable with computers. So, they make the lessons simple and fun and give away prizes.»
Not just is coding becoming infectious among children, but it's taking over one of their favorite forms of entertainment, animation. Joe Li of the Daily Pennsylvanian looks at this in a new article titled «Coding usurps art in animation industry.» Li writes, «Mastering painting and drawing is no longer enough to succeed in the animation industry — coding and scripting are essential requirements for a position at a top animation firm. 'Right now almost all animations are made by computers. Fields such as movies and video games absolutely rely on computer graphics,' Computer and Information Sciences professor Norman Badler said. Badler is the director of the Center for Digital Visualization as well as a digital media design major in Engineering. Badler pointed out that many students in the major who work in the animation industry usually end up becoming 'technical directors,' who develop and improve software applications for the firms to help with animation production. 'There are typically two paths that you can go with computer animation. One is the traditional route of learning fine arts and work as animators, but we are in a technology heavy environment, so we go more with the other path, which is [to] do programming for animation firms,' Badler said.»
Clearly, coding is becoming more essential to our lives as each day passes by. That's why children need the informative yet fun coding education provided by CodeRev Kids. We offer a variety of after school programs and summer and spring camps that allow kids to develop apps, video games, robots, and more.
Consider this: By 2020, 1 million computing jobs will go unfilled in the United States due to a lack of appropriate preparation of our future workforce. Students are currently graduating from excellent universities without the ability to obtain positions that utilize their expertise, yet someone who graduates from college with a computer science degree is very likely to obtain a desirable and high earning position immediately. Those who possess these highly valued technology skills will have the opportunity to work in any field they want as they depart college because every field will certainly contain positions that require expertise in technology.
If you're looking to get your child ahead of the curve in the evermore technological world, look no further than CodeRev Kids!